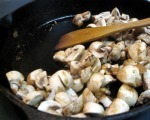 Prep: 10 min
Cook Time: 15 min
Total: 25 min
Serving: Serves 4 people
Looking for a tasty side dish? Skillet Mushrooms with Garlic is a great flavor combination your family and friends will enjoy.
Ingredients
2 tablespoons vegetable oil
1 pound whole, white button mushrooms
4 scallions, thinly sliced
3 cloves garlic, crushed
3 tablespoons breadcrumbs
1 tablespoon fresh parsley, chopped
2 tablespoons butter
2 tablespoons lemon juice
Salt and pepper to taste
Directions
Using a wok or heavy skillet, heat the oil and butter over medium-high heat. Add the scallions and garlic and stir fry for 2 minutes. Add the mushrooms to the mixture and cook over high heat for about 5 minutes. Stir the mixture often while cooking.
Add the breadcrumbs, parsley, lemon juice and salt and pepper to the mixture. Continue to stir fry for a few minutes (until the lemon juice evaporates). Serve hot.