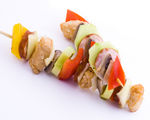 Prep: 10 min
Cook Time: 20 min
Total: 30 min
Serving: 12
Skewers of lean white-flesh fish imbued with enticing Asian flavors are irresistible as a protein rich appetizer. This dish easily transports to a picnic or outdoor gathering. Prepare skewers and store in an airtight container (avoid plastic bags since the skewers can poke through). When you get to your destination, cook on the grill at once. Other firm-flesh fish, such as halibut or swordfish can be used in this recipe. This recipe is brought to you by the Fitness Kitchen by Shelly Sinton.
Ingredients
Marinade
In a medium bowl, whisk together the following marinade:
¼ cup rice wine vinegar
2 tablespoons soy sauce
1 tablespoon grated gingerroot
3 cloves garlic, minced
Pinch sugar
1 jalapeno, seeded, minced
1 teaspoon olive oil
1 teaspoon toasted sesame oil
Hot sauce to taste
Skewers
2 pounds skinless cod fillets, cut into 1 ½ inch cubes
1 pound small cremini mushroom caps
2 (6 ounce each) red onions, cut into eighths
12 (12-inch) metal, bamboo or wooden skewers
Soak bamboo or wooden skewers in water for at least 30 minutes to keep them from flaming.
Directions
Add cod and mushrooms to bowl of marinade, cover and refrigerated for 1 hour, tossing occasionally.
Set onion aside.
Preheat grill to medium-high.
Slide cod, mushrooms, and onions onto skewers—piece of cod, a mushroom cap, then a wedge of onion and repeat—until all ingredients are skewered, leaving the bottom 2 inches of each skewer bare.
Discard marinade or bring to a boil for 5 minutes and use as a dipping sauce.
Lightly oil grill or spray with nonstick cooking spray and cook skewered ingredients until cod is just browned and opaque in the center, about 3 to 4 minutes per side.
Test a piece of cod for doneness, then remove skewers from heat.
Serve with warm Somen Noodles (page xx) or a bowl of cooked bulgur studded with green onions, chopped fresh cilantro, toasted sesame seeds and a dash of soy sauce or tamari.
Alternatively, skewers can be broiled in the oven on a lightly oiled broiler pan until cooked through about 3 minutes per side.