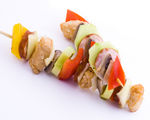 Prep: 10 min
Cook Time: 8 min
Total: 18 min
Serving: 6
Serve these skewers as a snack or on a bed of shredded cabbage for a light meal.
Ingredients
1/4 c chicken borth
2 Tbs finely chopped green onions
2 Tbs minced fresh parsley
1 Tbs soy sauce
2 tsp sesame oil
1 tsp grated ginger root
1/4 tsp ground coriander
1 lb skinless, boneless chicken breasts, cut into 1/2 inch wide strips
1 Tbs sesame seeds
Directions
Mix all the above ingredients except the chicken and sesame seeds in a medium bowl.
Add chicken and blend until well coated.
Cover and marinate in the refrigerator for 20 minutes.
Drain the chicken and discard the marinade.
Thread the chicken strips onto 6 inch metal or soaked bamboo skewers in a loose accordion fashion.
Sprinkle with the sesame seeds.
Place the skewers on the rack in a broiling pan.
Broil for 8 minutes 5 inches from the heat, turning every 4 minutes until no longer pink.