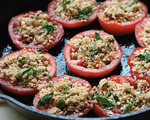 Prep: 10 min
Cook Time: 27 min
Total: 37 min
Serving: 6 Servings
These sizzling sliced tomatoes are first seared in oil, then topped with a fragrant fresh parsley, basil, garlic and sun-dried tomato mixture, and lastly baked in the oven until golden brown.
Ingredients
3 medium tomatoes, cut into halves
1/4 cup dry breadcrumbs
2 tablespoons chopped fresh parsley
1-1/2 tablespoons chopped fresh basil
Salt and freshly ground pepper
2 cloves garlic, minced
2 sun-dried tomatoes, finely chopped
2 tablespoons olive oil plus to grease pan
Directions
Preheat your oven to 350 degrees and brush an oven pan with oil to grease.
Place 1 tablespoon of the oil into a large sauté pan over high heat. Once it begins to shimmer, add the tomato slices, cut-sides down, and sear for 2 minutes. Transfer the tomatoes to the prepared pan and place, cut-sides up, into the pan.
Put the breadcrumbs, parsley, basil, a few pinches of salt and pepper, the garlic and sun-dried tomatoes into a bowl and mix well to combine. Top the mixture onto the tomatoes and then place the pan in the oven for 25 minutes. Remove the tomatoes and serve drizzled with the remaining oil.