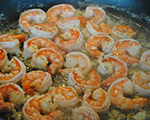 Prep: 15 min
Cook Time: 6 min
Total: 21 min
Serving: 4 Servings
An extremely popular tapas dish, enjoy these spicy and succulent pieces of sautéed shrimp as an appetizer or as part of an entrée.
Ingredients
1 tablespoon extra-virgin olive oil
3 cloves garlic, minced
1 bay leaf
1/4 teaspoon crushed red pepper
1 pound medium peeled and deveined shrimp (tails left on)
Sea salt & freshly ground pepper to taste
2 tablespoons dry white wine
2 tablespoons lemon juice
2 tablespoons chopped fresh parsley
Directions
Place the oil, garlic, bay leaf and red pepper in a large sauté pan over medium-high heat and sauté for 40 seconds.
Drop in the shrimp and sprinkle with salt. Continue to sauté for 3-4 minutes and then pour in the wine and the lemon juice.
Cook the mixture for an additional 30 seconds, season with some salt and pepper to taste, and sprinkle with parsley. Place the shrimp on a serving dish and serve immediately.