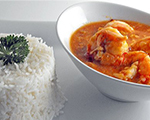 Prep: 15 min
Cook Time: 6 min
Total: 21 min
Serving: 4 Servings
Chili crab is a staple dish in Singapore, available at the majority of restaurants. Serve over white or brown rice for a delicious and satisfying meal.
Ingredients
1/2 cup water
1/4 cup ketchup
1 tablespoon reduced-sodium soy sauce
1 tablespoon tomato paste
1 teaspoon cornstarch
1 tablespoon toasted sesame oil
1/4 cup minced shallot
2 tablespoons minced garlic
2 tablespoons minced red chili
1-1/2 tablespoons minced fresh ginger
1 6-ounce bag baby spinach
1 pound pasteurized crabmeat, drained
Directions
In a medium bowl, mix together the water, ketchup, soy sauce, tomato paste and cornstarch with a whisk until well combined.
In a large sauté pan, heat the oil over medium-high heat and then add the shallots and sauté for 1-1/2 minutes.
Add in the garlic, chili and ginger and continue to cook for 30 seconds.
Stir in the spinach and cook for 2 minutes, and then add the soy sauce mixture and crab and simmer over medium-low heat, covered, for 2 minutes. Serve immediately.