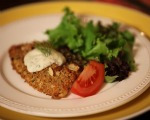 Prep: 20 min
Cook Time: 15 min
Total: 35 min
Serving: 4 people
With just 226 calories and only six grams of fat per serving, this fish recipe isn't just delicious, it's also nutritious.
Ingredients
Dill Sauce:
1/2 cup Dannon Oikos Greek Nonfat Plain Yogurt
2 teaspoons Dijon mustard
1 teaspoon dried dill
1/2 teaspoon dried parsley flakes
1/4 teaspoon honey
1/4 teaspoon onion powder
Fish:
1/4 cup grated Parmesan cheese
1/3 cup whole wheat bread crumbs
1 teaspoon Italian seasoning
1 pound fresh white fish fillet, such as tilapia, sole, flounder, or haddock
1/4 cup sliced almonds
1/2 cup Dannon Oikos Greek Nonfat Plain Yogurt
Directions
Preheat oven to 425 degrees F. Spray cookie sheet with vegetable oil spray. To make the sauce, stir together yogurt, mustard, dill, parsley flakes, honey and onion in medium bowl and refrigerate. Prepare sauce at least 1 hour in advance for optimal flavor.
To prepare the fish, combine cheese, breadcrumbs, Italian seasoning, and almonds in shallow dish. Place yogurt in a separate shallow dish and dip each fillet in yogurt to coat on both sides. Dip fish in breadcrumbs on both sides and place on pan, with rounded side of fish facing up.
Bake 15-20 minutes until golden and fish is opaque white in the center. Serve immediately with dill sauce.