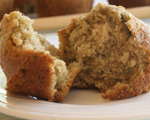 Prep: 15 min
Cook Time: 18 min
Total: 33 min
Serving: Makes about 1-1-/2 dozen muffins
Adding fresh zucchini to these muffins keeps them moist and delicious. Serve them slathered with creamy butter and your favorite homemade marmalade.
Ingredients
2 eggs, beaten
2/3 cup canola oil
2 teaspoons vanilla extract
1-1/2 cups sugar
1-1/2 cups shredded zucchini
2 cups all-purpose flour
1/2 teaspoon baking soda
1/2 teaspoon baking powder
1/4 teaspoon salt
1-1/2 teaspoons cinnamon
Oil or butter to grease muffin tin
Directions
Preheat your oven to 400 degrees and grease 18 muffins cups with oil or butter.
Place the eggs in a large bowl and whisk until frothy. Add the oil, vanilla and sugar and continue to whisk until combined. Stir in the shredded zucchini and then sift in the flour, baking soda, baking powder, salt and cinnamon. Mix the batter until just combined.
Spoon the batter into the prepared muffin cups until each cup is 3/4-full. Place the muffin tins in the oven and bake for 18 minutes, or until the center of the muffin tops spring back when pressed. Let the hot muffins cool for 5 minutes before removing from the pan.