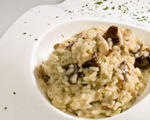 Prep: 20 min
Cook Time: 30 min
Total: 50 min
Serving: 6 Servings
Sautéed wild mushrooms, shallots and garlic give this creamy risotto its rich and flavorful taste. Accompany with an American Pinot Noir or Cabernet Sauvignon.
Photo originally appeared on life123.com
Ingredients
3 cups mixed wild mushrooms, thinly sliced
1/4 cup thinly sliced shallots
2 cloves garlic, minced
1/8 teaspoon pepper
1 tablespoon butter
1 cup long-grain rice
1 14-ounce can reduced-sodium chicken broth
1-3/4 cups water
1/4 cup chopped flat-leaf parsley
2 tablespoons freshly grated Parmigiano-Reggiano cheese
Directions
Place the butter into a saucepan over medium heat. Once melted, add the mushrooms, shallots, garlic, and pepper and sauté for 2 minutes. Stir in the rice, cook for an additional 2 minutes, stiffing frequently, and then slowly stir in the broth and the water.
Bring the mixture to a boil. Once boiling, reduce the heat to medium-low and simmer the rice mixture for 25 minutes.
Add the parsley and cheese to the pan, stir to combine and then cover the pan and let stand for 5 minutes before serving.