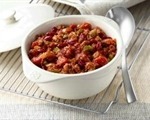 Prep: –
Cook Time: 1 hr 15 min
Total: 1 hr 15 min
Serving: 6 servings
A hearty beef chili with Kellogg's All-Bran® cereal
Variation: For thicker chili, simply add a little extra cereal.
Ingredients
500 grams (1 pound) lean ground beef
1 large onion
2 medium green peppers
1 can tomatoes, 796 millilitres (28 ounces)
1 can tomato sauce, 398 millilitres (14 ounces)
20 millilitres (4 teaspoons) chili powder, or to taste
1 millilitres (1/4 teaspoon) garlic powder
1 millilitres (1/4 teaspoon) salt
Pinch (1/2 teaspoon) pepper
1 can red kidney beans, 540 millilitres (19 ounces)
250 millilitres (1 cup) All-Bran Original® cereal
Directions
In large, heavy saucepan, cook beef with onion and green pepper until meat is brown, stirring frequently. Drain off fat.
Add tomatoes; break into chunks. Stir in tomato sauce, chili powder, garlic powder, salt and pepper until well mixed. Stir in beans and bring to a boil. Reduce heat and simmer, uncovered, about 40 minutes, stirring occasionally.
Stir in cereal and cook about 10 minutes longer, stirring frequently.