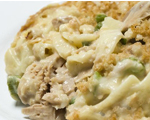 Prep: 15 min
Cook Time: 45 min
Total: 1 hr
Serving: Serves 4
Casserole equals comfort food. A creamy and filling meal for the entire family to enjoy on a lazy Sunday.
Ingredients
6 ounces egg noodles
1/2 teaspoon thyme
1/4 teaspoon salt
1 can cream of celery soup
1/2 cup milk
2 (7 ounce) cans tuna, drained and flaked
1 cup coarsely chopped celery
1/3 cup chopped green bell pepper
1/3 cup sliced water chestnuts
1/3 cup whole scallions, chopped
1/2 cup mayonnaise
3/4 cup grated sharp Cheddar cheese
1/4 cup chopped toasted almonds
Directions
Preheat the oven to 425 degrees.
Cook noodles according to package directions. Drain and combine noodles, thyme and salt in a 2-quart casserole dish; set to the side.
In large saucepan, blend the soup and milk on medium heat. Stir constantly until smooth.
Mix in the tuna, green pepper, water chestnuts, scallions, mayonnaise and all but 2 tablespoons of the cheese. Continue stirring over medium heat until the cheese has melted.
Pour the cheese sauce over the noodles and mix well. Sprinkle the top of the casserole with the remaining cheese and toasted almonds
Bake the casserole for approximately 20 minutes, until the cheese is bubbling and lightly browned.