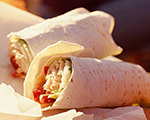 Prep: 20 min
Cook Time: 20 min
Total: 40 min
Serving: 4 Servings
These simple wraps, bursting with the exotic flavors of Thai cuisine, are not only tasty but can be made in less than 30 minutes.
Ingredients
1/4 cup sugar
1/4 cup creamy peanut butter
3 tablespoons soy sauce
3 tablespoons water
2 tablespoons cooking oil
1 teaspoon bottled minced garlic
10-inch flour tortillas
1/2 teaspoon garlic salt
1/2 teaspoon pepper
12 ounces skinless, boneless chicken breast strips for stir-frying
1 tablespoon cooking oil
4 cups packaged shredded broccoli
1 medium red onion, cut into thin wedges
1 teaspoon grated fresh ginger
Directions
Preheat the oven to 350 degrees.
In a small saucepan, add the sugar, peanut butter, soy sauce, water, 2 tablespoons cooking oil, and the garlic over medium heat. Cook the mixture until the sugar has dissolved and then set aside to cool.
Place the tortillas in foil and put in the oven for 10 minutes to heat.
In the meantime, sprinkle the chicken with the garlic salt and the pepper until evenly coated.
Heat a large frying pan over medium-high heat and add 1 tablespoon of oil. Add the chicken and cook for 3 minutes, stirring to ensure even cooking, and then remove and set aside.
Add the broccoli to the pan, along with the onion and the ginger. Sauté for 3 minutes and then transfer to a plate.
Assemble the wraps by first spreading each tortilla with 1 tablespoon of the peanut sauce mixture and then topping with chicken and the broccoli mixture. Roll up each tortilla and secure if needed with a toothpick. Serve immediately.