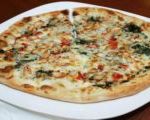 Prep: 10 min
Cook Time: 15 min
Total: 25 min
Serving: Serves 4-6 people
Add more to this pizza to personalize it. Simple, Sauce-free Spinach & Tomato Pizza is a snap to make when time is at a premium.
Ingredients
1 tablespoon olive oil
1 clove garlic, minced
1, 12-inch prepared pizza crust
1 10-ounce package frozen chopped spinach, thawed & drained
1 cup shredded mozzarella cheese
1-2 small tomatoes, cut into small slices
4 ounces crumbled feta cheese (the herbed version works well)
1 teaspoon fresh rosemary, chopped
Directions
Preheat your oven to 450 degrees F. Using a small bowl (microwave safe), mix together your oil and garlic. Microwave it for about 30 seconds.
Place pizza crust on baking sheet and brush with olive oil-garlic mixture. Top with spinach, mozzarella cheese, tomatoes, then crumbled feta. Garnish with fresh rosemary. Bake according to pizza crust directions, until cheese is melted and crust is golden brown.