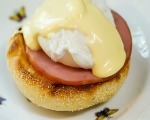 Prep: 10 min
Cook Time: 15 min
Total: 25 min
Serving: Serves 4 people
Traditional breakfast dishes don't have to be difficult. Simple Classic Eggs Benedict is great for a special breakfast or brunch for guests.
Ingredients
4 slices Canadian bacon
1 teaspoon white vinegar
4 eggs
1 cup butter
3 egg yolks
1 tablespoon heavy cream
1 dash cayenne pepper
1/2 teaspoon salt
1 tablespoon lemon juice
4 English muffins, split & toasted
Directions
In a medium-sized skillet over medium-high heat, fry the Canadian bacon on both sides. Set aside.
Using a large saucepan, fill it with about 3 inches of water. Bring it to a simmer. Add the vinegar to the water. Carefully break the 4 eggs into the water. Cook the eggs until the whites set (about 3 minutes). Carefully remove the eggs with a large slotted spoon and set aside.
Melt the butter in a small pan. Remove the pan from the heat before the butter browns. Using a food processor, blend the egg yolks, heavy cream, cayenne pepper and salt until everything is smooth. In a thin stream, add half the hot butter, slowly. Add the lemon juice in a thin stream. Add the remaining butter the same way.
Place the toasted English muffins onto a serving platter. Top each of the 4 halves with the Canadian bacon and then the poached egg. Drizzle the cream sauce on top, reserving a bit for the other 4 halves of the muffins, and serve immediately.