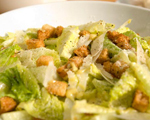 Prep: 15 min
Cook Time: –
Total: 15 min
Serving: 4 Servings
Make a classic Caesar salad in just 15 minutes with this simple recipe.
Ingredients
2 egg yolks
1-1/2 cups olive oil
Juice of 1-1/2 lemons
2 cloves garlic peeled
3 anchovies, minced
Sea salt and freshly ground pepper
5 tablespoons Parmigiano-Reggiano plus additional for garnish if desired
3 large hearts of Romaine, chopped
1-1/2 cups croutons
Directions
In a medium bowl, whisk the egg yolks together and then slowly pour in half of the oil. As the dressing begins to thicken, slowly add the lemon juice and then add the remaining oil.
Using the flat side of a knife, smash the peeled garlic and then finely mince it. Add a sprinkle of salt and the anchovies, and then continue to mash it until it forms a paste.
Add the garlic mixture to the oil mixture, along with a sprinkle of salt and pepper and the cheese. Mix to combine and then adjust seasonings as desired.
Place the lettuce and the croutons in a bowl and pour on the dressing. Toss the salad to combine and then serve, garnished with extra cheese.