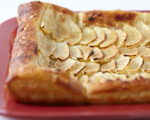 Prep: 10 min
Cook Time: 23 min
Total: 33 min
Serving: 8 servings
Use freshly picked apples from the local orchard for this simple fall dessert. Serve warm and top with a generous scoop of vanilla ice cream.
Ingredients
1 sheet frozen puff pastry thawed
1/2 cup slivered almonds
2 tablespoons sugar, divided
1/8 teaspoon cinnamon
Pinch fine sea salt
1/2 Granny smith apple, cored and very thinly sliced (1/16th inch)
1/2 Braeburn or Fuji apple, cored and very thinly sliced (1/16th inch)
1 large egg, lightly beaten
Directions
Preheat the oven to 375 degrees.
Unfold the puff pastry and place on a baking sheet.
Place the almonds, 1 tablespoon sugar, cinnamon and salt in a food processor and process the mixture until finely chopped.
Evenly sprinkle the almond mixture over the pastry, leaving about a 1/4-inch border around the edges.
Top with the apple slices, overlapping each slice to create a shingle design.
Brush the apple slices with the egg wash and then evenly sprinkle with the remaining sugar.
Place the baking sheet in the oven and cook for 23 minutes. Serve warm.