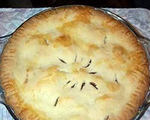 Prep: 20 min
Cook Time: 45 min
Total: 1 hr 5 min
Serving: 1 Pie
This apple pie recipe uses a premade crust and is super easy to make.
Ingredients
6 cups apples, peeled and thinly sliced
3/4 cup white sugar
1 tablespoon butter
1/2 teaspoon ground nutmeg
1 teaspoon ground cinnamon
2 premade 9 inch pie crusts, one for top and one for bottom of pie
Directions
Preheat oven to 450 F. Combine sugar, nutmeg, and cinnamon in a large bowl. For apples that aren't too sweet, feel free to add more sugar.
Arrange apples in layers in premade pie crust. Sprinkle each layer with sugar and spice mixture. Dot the top layer with small pieces of butter and then cover with top premade pie crust.
Place pie on lowest oven rack and bake for only 10 minutes at 450 degrees. Then reduce oven temperature to 350 F and continue baking for an additional 35 minutes until pie is golden brown. Serve warm with a scoop of vanilla ice cream on the side.