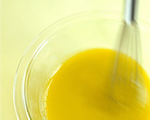 Prep: 5 min
Cook Time: –
Total: 5 min
Serving: Dresses 2 salad servings
The mystery behind making the perfect vinaigrette every single time is to use very high quality olive oil and vinegar. Also make sure you add the salt to the vinegar before any other ingredients, to create a more subdued acidic taste.
Ingredients
1 tablespoon red wine vinegar
1 pinch sea salt
Freshly ground black pepper
3-1/2 tablespoons extra-virgin olive oil
Directions
In a small bowl, pour in the vinegar and add the pinch of salt. Mix until the salt dissolves; mixture shouldn't be too salty or too acidic. Adjust salt and vinegar to taste.
Grind in the black pepper and then slowly pour in the oil, mixing with a wire whisk to blend.