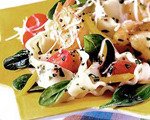 Prep: 10 min
Cook Time: 12 min
Total: 22 min
Serving: 4 Servings
Mafalda Noodles are flat, rectangular noodles with ruffles on both edges. They make a beautiful presentation especially in this colorful shrimp, tomato and baby spinach dish.
Ingredients
6 ounce mafalda noodles
12 ounce fresh or frozen and thawed medium shrimp, peeled and deveined, patted dry
1-1/2 teaspoon bottled minced garlic
1 tablespoon olive oil or cooking oil
1 cup chicken broth
1 tablespoon cornstarch
1 teaspoon dried basil, crushed
4 cups prewashed baby spinach
1 cup cherry tomatoes, halved
Finely shredded Parmesan cheese
Freshly ground black pepper or crushed red pepper
Directions
Prepare the pasta according to package directions, drain and then return to the pot.
In the meantime, place the olive oil into a large sauté pan over medium-high heat. Once it begins to shimmer, add the garlic and cook for 15 seconds, and then add the shrimp and sauté for an additional 3 minutes. Transfer the shrimp out of the pan and set aside.
Place the broth, cornstarch and basil in a bowl and whisk to combine. Pour the mixture into the skillet and cook until the sauce becomes thick and begins to bubble. Stir in the spinach and tomatoes, cook for 1 minute, and then add the shrimp and the pasta; cook until heated through. Serve the dish topped with Parmesan cheese and fresh pepper.