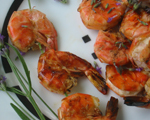 Prep: 10 min
Cook Time: 10 min
Total: 20 min
Serving: 4 Servings
Succulent pieces of grilled shrimp are bathed in a fragrant lemon and saffron infused olive oil sauce.
Ingredients
1 large lemon, zested and juiced (about 3 tablespoons juice)
1/4 teaspoon saffron stems, crumbled and dissolved in a little lemon juice
6 large cloves garlic, roughly chopped (about 1/4 cup)
1 tablespoon Dijon mustard
1 whole egg
1 egg yolk
1-1/2 cups extra-virgin olive oil
1 teaspoon sea salt
24 jumbo shrimp in the shell
Directions
Place the lemon juice, saffron and garlic in a food processor, and process for 15 seconds.
Add the Dijon mustard and pulse to combine, then add the egg, egg yolks and lemon zest and process for 15 seconds.
With the machine running, slowly pour in the 1-1/2 cups olive oil until emulsified.
Add 1 teaspoon salt and pulse to combine.
Place the shrimp in a bowl and drizzle with 5 tablespoons of the olive oil mixture. Toss to coat and then let stand for 20 minutes.
In the meantime, prepare the grill on medium-high heat.
Place the shrimp on the grill and cook for 4 minutes per side or until opaque. Serve with the remaining olive oil sauce as a dip.