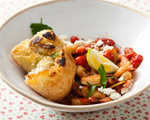 Prep: 10 min
Cook Time: 10 min
Total: 20 min
Serving: 4 Servings
This simple shrimp dish is boldly flavored with garlic, wine and feta. Serve it with a side of fresh country bread to sop up all the delicious sauce.
Ingredients
1-1/2 pound extra-large shrimp, peeled and deveined
1 teaspoon sea salt
1/4 cup extra-virgin olive oil
5 cloves garlic, thinly sliced lengthwise
1 teaspoon dried oregano
1 pint cherry tomatoes, halved
1/4 cup white wine
6 ounces feta cheese, coarsely crumbled
chopped parsley and lemon wedges
Directions
Put the shrimp in a large bowl and sprinkle with the salt.
Place a large sauté pan over medium heat and add the oil. When the oil begins to shimmer, add the garlic and the oregano and sauté for 3 minutes.
Add the shrimp to the pan and sauté the mixture for about 3 minutes over medium-high heat, or until the shrimp is opaque.
Stir in the tomatoes and the wine and continue to cook for 3 additional minutes.
Gently fold the cheese into the mixture and serve immediately sprinkled with the chopped parsley and lemon wedges.