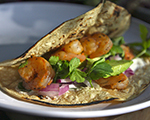 Prep: 40 min
Cook Time: 6 min
Total: 46 min
Serving: 4 Servings
These shrimp tacos are a great alternative to a typical sandwich at lunch, or as a light yet satisfying dinner.
Ingredients
1/4 cup sour cream
1 lime, half finely zested and juiced, half cut into wedges
hot sauce
1/2 head small red cabbage
1 cup fresh cilantro
1 small red onion finely chopped
avocado slices
1 pound shrimp
1/4 teaspoon chili powder
salt & pepper
1 chopped hot pepper
pinch cayenne pepper
2 cloves garlic minced
Directions
Place the shrimp, cayenne pepper, chili powder, garlic, salt, pepper and a few dashes of Tabasco in a bowl and sir to combine. Let the shrimp marinate in the mixture for 30 minutes.
Prepare the grill on medium high and grill the shrimp for 3 minutes on each side.
In the meantime, combine the sour cream, lime zest, lime juice, salt, pepper and 2 dashes of Tabasco in a small bowl and mix to combine.
Lightly toast the corn tortillas on the grill and then add about 5 shrimp per taco. Top the shrimp with the cabbage, avocado, cilantro, onion and the lime sour cream mixture. Serve immediately.