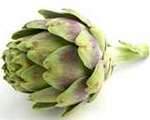 Prep: 30 min
Cook Time: 45 min
Total: 1 hr 15 min
Serving: 4
Shrimp Stuffed Artichokes are a perfect combination for an elegant luncheon.
Ingredients
4 large artichokes
salt
lemon juice
1/4 cup mayonnaise
1/4 cup sour cream
dash Worcestershire sauce
garlic powder
1 cup cooked shrimp, chopped
1/4 cup celery, diced
1 tablespoon minced chives
Directions
Wash artichokes and remove outer leaves. Cut off stems close to base and cut off tops about 1 inch down. Place in large saucepan with 1 quart water, 1 teaspoon salt and 1 1/2 tablespoons lemon juice. Cook 30 to 45 minutes, or until hearts are tender. Invert artichokes on paper towels to drain. Remove center chokes and chill.
Combine mayonnaise, sour cream, Worcestershire sauce and 1 teaspoon lemon juice. Season to taste with garlic powder. Combine shrimps, celery and chives; mix with about half of the sour cream sauce. Spoon shrimp salad into center of artichokes and serve rest of sauce as dip for artichokes leaves.