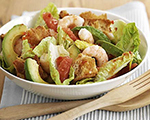 Prep: 20 min
Cook Time: 1 min
Total: 21 min
Serving: 4 Servings
The seafood in this refreshing salad is complimented by the creamy avocado and tangy citrus, making it a perfect dish for a warm summer evening.
Ingredients
4 medium dry sea scallops, quartered
1 small ruby-red grapefruit
1 small shallot, minced
3 tablespoons white-wine vinegar
1 teaspoon Dijon mustard
Salt to taste
1/4 teaspoon freshly ground pepper
2 tablespoons extra-virgin olive oil
6 ounces lump crabmeat
8 large jumbo shrimp, cleaned and shelled
1 small head romaine lettuce, shredded (about 3 cups)
6 cherry tomatoes, halved
1 small avocado, peeled, pitted and diced
Directions
Bring a small saucepan of water to a rolling boil over high heat, and then add the scallops and cook for 1 minute.
Remove the scallops from the pan and rinse under cold water to stop them from cooking. Drain and set aside.
Using a sharp paring knife, remove and discard the peel and the pith from the grapefruit and then cut out the grapefruit sections into a bowl. Set aside.
In a medium bowl, whisk together the shallot, vinegar, mustard, salt and pepper together until combined. Slowly pour in the oil and continue to whisk.
Stir the scallops, crab and shrimp into the vinaigrette until well-coated.
In a large serving bowl, place the lettuce, tomatoes, avocado and grapefruit and toss to combine. Add in the seafood mixture and the grapefruit and toss again.