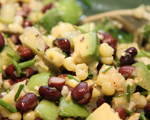 Prep: 10 min
Cook Time: 4 min
Total: 14 min
Serving: 6 Servings
Serve this Southwestern-styled salad for a luncheon or bring to an outdoor potluck.
Ingredients
3/4 pound shrimp, cleaned and peeled
1-1/2 cups cooked or canned black beans, drained
3 tablespoons olive oil
1/4 cup freshly squeezed orange juice
1 ripe tomato, chopped
1 avocado, chopped
1/2 cup diced red onion
1/2 cup corn
1 garlic clove, minced
1 tablespoon chili powder
1/2 cup chopped fresh cilantro
freshly ground black pepper, to taste
salt, to taste
Directions
Place the shrimp in a large pot of boiling water and cook for 4 minutes. Drain the shrimp, rinse under cold water and then drain once more.
Put the shrimp in a large serving bowl along with the black beans, olive oil, orange juice, tomato, avocado, onion, corn, garlic, chili powder, and a sprinkle of salt and pepper. Toss the mixture to combine and then adjust seasoning if needed.
Add the cilantro and toss the salad once more. Refrigerate for at least 30 minutes to allow flavors to blend before serving.