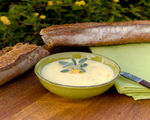 Prep: 15 min
Cook Time: 10 hr
Total: 10 hr 15 min
Serving: 6
Serve this Chowder in a bread bowl.
Ingredients
3 potatoes, peeled and diced
3 stalks sliced celery with tops
1 onion, chopped
2 cups boiling water
1/4 teaspoon black pepper
1 can evaporated milk
8 ounces Cheddar cheese, shredded
1 can tiny shrimp, undrained (4 1/2 ounces)
4 tablespoons dry sherry
1/4 teaspoon salt
1/4 cup chopped fresh parsley
chopped parsley
Directions
Put potatoes, celery, onion and boiling water in crock pot.
Cover and cook on lot 9 to 10 hours (3 - 4 on high).
Stir in pepper, evaporated milk, cheese and shrimps during last hour.
When ready to serve, stir in sherry and salt.
Sprinkle with parsley.