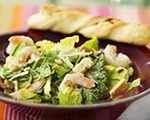 Prep: 15 min
Cook Time: –
Total: 15 min
Serving: 4 Servings
The shrimp in this classic Caesar salad are not only delicious, but add lots of lean protein and texture.
Ingredients
3 tablespoons lemon juice
2 teaspoons Dijon mustard
3 anchovies, coarsely chopped
1 small clove garlic, coarsely chopped
2 tablespoons extra-virgin olive oil
1/2 cup grated Asiago cheese, divided
1/2 teaspoon freshly ground pepper
8 cups chopped hearts of romaine (about 2 hearts)
1 pound peeled cooked shrimp (21-25 per pound; thawed if frozen)
1 cup whole-grain croutons
Directions
Using a food processor, process the lemon juice, mustard, anchovies and garlic together until smooth, and then slowly pour the oil down the processor flute while the food processor is on.
Add the pepper and 1/4 cup of the Asiago cheese and pulse mixture until combined.
Place the romaine, shrimp and croutons in a large salad bowl and pour over the dressing. Gently toss the salad to coat and then top with the remaining cheese.