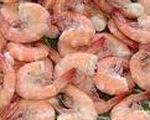 Prep: 15 min
Cook Time: 15 min
Total: 30 min
Serving: 10
Shrimp, Asparagus and Mushroom Fettucine has a decadent Alfredo sauce.
Ingredients
2 pounds fettucine
1 pound asparagus, cut into 1 inch pieces
1 tablespoon butter, unsalted
8 ounces white mushrooms, sliced
2 cups heavy cream
2 cups half-and-half
1 cup fresh lemon juice
2 cups Parmesan cheese, grated
1/2 teaspoon ground nutmeg
1/2 teaspoon salt
coarsely ground black pepper to taste
1 pound shrimp, cooked and peeled
Directions
Cook fettucine according to package directions, add asparagus during the last 2 minutes. Drain well.
Melt butter in a large skillet. Add mushrooms and cook until tender, 3 minutes.
Combine cream, half-and-half and lemon juice in a large deep skillet; cook over medium heat about 3 minutes. Add pasta mixture to the cream mixture; stir well. Add cheese, nutmeg, salt and pepper and cook, tossing fettucine, until sauce thickens slightly, about 1 minute.
Add shrimp and mushrooms. Toss gently. Serve immediately.