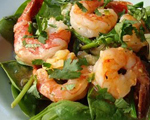 Prep: 15 min
Cook Time: 5 min
Total: 20 min
Serving: Serves 4
Use Boston, Butter or Summer Bibb lettuce for this light and refreshing salad. A great dish to use as a salad starter or as a light summer lunch.
Ingredients
2 cups mayonnaise
1/4 cup white wine vinegar
1/4 cup chopped fresh chives
2 tablespoons water
2 garlic cloves, minced
2 pounds asparagus, trimmed, cut into 1 1/2-inch pieces
4 heads of lettuce, torn into bite-size pieces
1-1/4 pounds cooked shrimp
3 cups halved cherry tomatoes
Directions
In a medium-sized bowl, mix together the mayonnaise, vinegar, chives, water and garlic with a wire whisk, and sprinkle with salt and pepper.
Bring a medium-sized pot of salted water to a boil. Blanch the asparagus for about 2 minutes in the boiling water and then remove, rinse under cold water and drain. Cover the asparagus and chill in the refrigerator.
In a large serving bowl, toss the lettuce with half of the shrimp, half of the tomatoes and half of the asparagus and a sprinkle of salt.
Place the remaining ingredients on top of the salad and spoon over the dressing evenly.