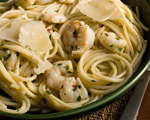 Prep: 10 min
Cook Time: 15 min
Total: 25 min
Serving: 4 Servings
A nice bottle of Chardonnay, Pinot Grigio or Pinot Noir pairs wonderfully with this decadent shrimp and spaghetti dish seasoned with fresh herbs and topped with shaved Parmesan cheese.
Ingredients
8 ounces dried spaghetti
1/2 medium red onion, cut into thin wedges (1/4 cup)
1 clove garlic, finely chopped
2-1/2 tablespoon extra-virgin olive oil
8 ounces shrimp, peeled
1-1/2 cup evaporated milk
1/2 teaspoon bottled hot pepper sauce
3 tablespoons snipped fresh basil
3 teaspoons finely shredded lemon peel
1 teaspoon snipped fresh mint
Shaved Parmesan cheese to garnish
Directions
Cook the spaghetti 'al dente' according to package directions, drain and then return to the pot. Drizzle with 1-1/2 tablespoons olive oil and toss to coat.
In the meantime, place the remaining oil into a large sauté pan over medium heat. Once the oil begins to shimmer, add the onion and garlic and sauté for 4 minutes. Stir in the shrimp and cook the mixture for an additional 4 minutes, and then add the milk and the hot pepper sauce.
Take the pan off the heat and add the cooked spaghetti, basil, lemon peel, mint and a generous pinch of salt and pepper. Toss once again to combine and then serve immediately topped with the Parmesan cheese.