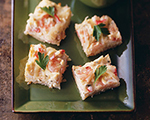 Prep: 15 min
Cook Time: 35 min
Total: 50 min
Serving: 16 Servings
Small, savory bites of shrimp and crab, settled on a crispy potato crust.
Ingredients
1-1/2 cups refrigerated hash brown potatoes
2 tablespoons butter, melted
1 (8-ounce) container chive and onion flavored cream cheese
4 ounces (1 cup) Swiss cheese, shredded
1 (6-ounce) can crabmeat, drained, cartilage removed, flaked
1 (4-ounce) package frozen cooked salad shrimp, thawed, drained
1 egg
1 tablespoon all-purpose flour
1/8 teaspoon ground red pepper
Directions
Preheat the oven to 425 degrees.
Place the hash brown potatoes and the butter into a bowl and mix together until combined.
Press the potato mixture into the bottom of an 8-inch square pan and bake for 20 minutes until golden brown.
In the meantime, combine the remaining ingredients, except for 1/4 cup Swiss cheese, in a medium-sized bowl and mix to blend.
Spread the cream cheese mixture evenly over the potato crust and then place in the oven for an additional 15 minutes.
Remove the appetizer from the oven and let stand for 5 minutes before sprinkling with the remaining cheese.