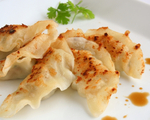 Prep: –
Cook Time: –
Total: –
Serving:
You don't need to go out to a restaurant to get wonderful Asian food. You can create this fabulous basil wontons with pineapple salsa recipe at home. Made from shrimp and basil, these wontons are a delicious appetizer that are perfect for a party. Enjoy these wontons with citrus hoisin sauce and pineapple salsa.


Always place a cloth over the wonton skins you are not using to avoid drying and cracking.
Ingredients
30 peeled and prepared shrimp
30 wonton squares
1 egg beaten
30 basil leaves small enough to fit in the wonton
1 teaspoon olive oil
Directions
Lay the wonton squares on your work surface and lightly brush two of the four sides with egg.
Place the basil on the wonton followed by the shrimp which should divide the wonton into two triangles.
Take one of corners and fold it over the shrimp till it meets with the other corner and seal with your fingers.
# Once the shrimp and basil are sealed in the wonton, place the wontons in a frying pan that is already set to low-to-medium heat with about a teaspoon of olive oil to cover the pan.
Cook until wonton skin is lightly browned. Serve with citrus hoisin sauce and pineapple salsa.