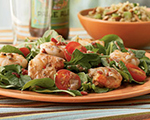 Prep: 10 min
Cook Time: 5 min
Total: 15 min
Serving: 4 Servings
The perfect summer salad for a relaxed get together with friends, this dish is full of vibrant tastes and color.
Ingredients
12 cups loosely packed arugula leaves
2 cups loosely packed fresh basil leaves
1-1/2 cups fresh corn kernels (from about 2 ears)
1-1/2 cups cherry tomatoes or grape tomatoes, halved
4 tablespoons extra-virgin olive oil, divided
1-1/2 tablespoons lemon juice
1-1/2 tablespoons balsamic vinegar
2 teaspoons grainy mustard
1/2 teaspoon sea salt, divided
1 pound raw shrimp (21-25 per pound), peeled and deveined, tails removed if desired
2 cups herb-garlic croutons
Freshly ground pepper to taste
1/2 cup grated Asiago cheese
Directions
In a small bowl, add 3 tablespoons of the oil, the lemon juice, vinegar, mustard and 1/4 teaspoon salt and whisk until combined.
Place the arugula, basil, corn and tomatoes in a large salad serving bowl and then pour over all but 1 tablespoon of the vinaigrette and toss to combine.
Place the remaining 1 teaspoon of oil in a large sauté pan over medium-high heat.
Sprinkle the shrimp with the remaining 1/4-teaspoon salt and add to the pan. Sauté for 3-1/2 minutes and then remove the pan from heat.
Add the remaining 1 tablespoon of vinaigrette to the shrimp, stir to coat, and then add the shrimp to the salad.
Sprinkle the salad with the cheese and croutons, and serve immediately.