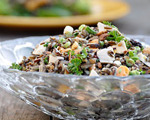 Prep: 10 min
Cook Time: 40 min
Total: 50 min
Serving: Makes 4 servings
Making this dish with wild rice, instead of a classic white or brown variety, adds cholesterol-lowering fiber, a delicious, nutty taste and an enjoyable, slightly chewy texture.
Ingredients
1-1/2 cups uncooked wild rice, rinsed and drained
2 tablespoons fresh lemon juice
2 tablespoons red wine vinegar
2 tablespoons Dijon mustard
1 tablespoon honey
1 tablespoon ground cumin
1 teaspoon curry powder
1/4 teaspoon paprika
1/8 teaspoon cayenne pepper
2 cloves garlic, minced
1/2 cup extra-virgin olive oil
1 can water chestnuts, drained and chopped
1/2 cup sliced green onions
1/4 cup golden raisins
3 cups cooked, shredded chicken
Salt and freshly ground pepper to taste
Chopped parsley to garnish
Directions
Cook the wild rice according to package directions, rinse under cold water and then drain well. Place in a bowl with the chicken, water chestnuts, green onions and raisins, and toss to combine.
In the meantime, make the dressing by whisking the lemon juice, red wine vinegar, Dijon mustard, honey, cumin, curry powder, paprika, cayenne pepper and minced garlic in a bowl until thoroughly blended. Slowly pour the olive oil into the mixture, mixing vigorously to combine.
Pour the prepared dressing over the cooked rice, sprinkle with some salt and fresh pepper to taste, and then toss gently to coat. Serve immediately garnished with some chopped parsley.