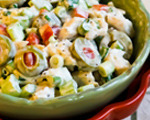 Prep: 10 min
Cook Time: –
Total: 10 min
Serving: Makes 6 small servings
This creamy and colorful salad is a great day-after solution for leftover rotisserie chicken. Use the olives of your choice in this dish, but large, green pimento-style work very well.
Ingredients
2-3 cups cooked chicken breast, shredded into bite-sized pieces
1 cup diced celery (about 3 stalks)
1 cup large green olives with pimento, sliced into crosswise slices
1/2 cup thinly sliced green onions
1/3 cup mayo
1/3 cup light mayo
2 teaspoons freshlemon juice
1 teaspoon Dijon mustard
1 teaspoons celery seed
salt and fresh ground black pepper to taste
Directions
Place the mayonnaises, lemon juice, Dijon mustard, celery seed and a few pinches of salt and pepper into a bowl. Whisk the mixture vigorously until thoroughly blended.
Put the chicken, celery, sliced onion and olives into a large bowl, add the dressing and toss to combine. Check the salad for additional salt and pepper to taste and then serve immediately.