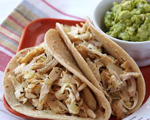 Prep: 10 min
Cook Time: 8 min
Total: 18 min
Serving: Makes 5 cups
Serve these warm shredded chicken tacos, seasoned with Mexican oregano and fresh thyme, with a side of creamy guacamole and some frosty bottles of Mexican-style beer.
Ingredients
1 large white or yellow skinned onion, finely chopped (1 1/2 cups)
1/4 cup vegetable oil
1 roasted chicken, meat shredded (about 4 cups)
2 teaspoons dried Mexican oregano
1 tablespoon chopped fresh thyme
Salt and freshly ground pepper
20 small tortillas, warmed
Directions
Place the oil in a large sauté pan over medium heat, add the onion and cook for 3 minutes until soft.
Add the shredded chicken, oregano and thyme and stir the mixture to combine. Sprinkle with salt and pepper to taste and cook for 5 minutes until warm.
Fill the warm tortillas with the mixture and serve immediately.