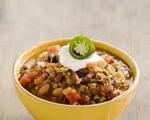 Prep: 30 min
Cook Time: 3 hr 30 min
Total: 4 hr
Serving: 8
Short Ribs and Beans are simmered in a thick chili sauce.
Ingredients
1, 16 ounce package dry navy beans, sorted and rinsed
water
1/4 pound salt pork, diced
2 pounds beef chucke short ribs, cut into serving pieces
1 onion, diced
2 teaspoon chili powder
4 teaspoons brown sugar
1 teaspoon salt
1, 16 ounce bag carrots, cut into 2 inch pieces
1, 16 ounce can tomato puree
2 tablespoons cider vinegar
1/2 teaspoon hot pepper sauce
Directions
In 8 quart Dutch oven over high heat, heat beans and 8 cups water to boiling; cook 3 minutes. Remove Dutch oven from heat; cover and let stand 1 hour. Drain and rinse beans; set aside.
In same Dutch oven over medium heat cook salt pork until lightly browned. With slotted spoon, remove pork to paper towels to drain.
In drippings remaining in pot, cook short ribs, a few pieces at a time, until browned on all sides, removing them to plate as they brown. Spoon off all but 2 tablespoons in Dutch oven. In drippings, over medium heat, cook onion until tender, stirring occasionally. Add chili powder; cook 1 minute.
Return beans, short ribs and salt pork to Dutch oven; add brown sugar, salt and 6 cups water; over high heat, heat to boiling. Reduce heat to low; cover and simmer 2 hours, stirring mixture occasionally.
Skim off fat from liquid in Dutch oven. Stir in carrots, tomato puree, vinegar, and hot pepper sauce; over high heat, heat to boiling. Reduce heat to low; cover and simmer 45 minutes longer or until beans, meat, and carrots are tender, stirring occasionally.