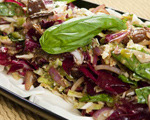 Prep: 10 min
Cook Time: 5 min
Total: 15 min
Serving: 4 Servings
A combination of shiitake mushrooms, fresh mozzarella cheese, radicchio and Savoy cabbage gives this citrus-drizzled salad incredible texture and taste. Serve as a fresh side dish to meat and poultry.
Ingredients
1 pound fresh mozzarella sliced 1/4 inch thick
3 cups cleaned sliced shiitake mushrooms
2 cloves of garlic, minced
1/4 cup sesame seeds
3 tablespoons soy sauce
3 tablespoons balsamic vinegar
1/4 cup sesame oil
2 cups radicchio, shredded
2 cups Savoy cabbage (about a 1/4 head of cabbage), shredded
3 scallions, sliced thin
1/2 cups basil leaves, torn
Juice of 1 orange
Sea salt and fresh pepper
2 cups sliced red onions
Directions
Place the cabbage, radicchio, scallions, onions, orange juice, basil and a few pinches of salt and pepper into a bowl and toss to combine.
Put the oil into a large sauté pan over medium-high heat. Once it begins to shimmer, add the mushrooms and sauté for 2 minutes, and then add the garlic and sesame seeds and sauté the mixture until fragrant. Stir in the soy sauce and the balsamic vinegar and then bring the mixture to a simmer.
Transfer the mushroom mixture to the bowl with the cabbage and toss well to combine. Serve the salad topped over slices of the fresh mozzarella.