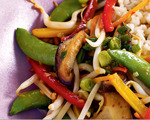 Prep: 10 min
Cook Time: 10 min
Total: 20 min
Serving: 2-4 People
Looking for a nutrient-rich dish that supplies all the vitamin C you need in a day? Try this delicious mushroom and veggie stir-fry recipe.
Ingredients
2 tablespoon Asian (toasted) sesame oil
1-1/2 cups shitake mushrooms, stems removed and sliced
1 red or yellow bell pepper, cored and thinly sliced
1 teaspoon minced fresh ginger
1 clove garlic, minced
1/4 teaspoon red pepper flakes
2 carrots, grated
1-1/2 cup (1/2 pound) sugar snap peas, trimmed
1 cup bean sprouts
4 scallions, thinly sliced
1 teaspoon cornstarch
1-1/2 teaspoon reduced-sodium soy sauce
1 cup low-sodium vegetable broth
1 cup brown or wild rice, prepared according to package directions
Directions
In a large skillet or wok, heat sesame oil over medium-high heat. Add shitake mushrooms, bell pepper slices, ginger, garlic and red pepper flakes, stirring constantly so the ingredients don't burn. (If they start to brown, pour a little vegetable broth into the skillet.) Continue to cook for about five minutes.
Add the carrots, peas, bean sprouts and scallions to the skillet. Stir-fry for about two minutes. In a small bowl, stir cornstarch into soy sauce, then add the mixture to the pan.
Pour in the vegetable broth and cook for about two minutes until the mixture comes to a boil and starts to thicken. Serve over brown or wild rice.