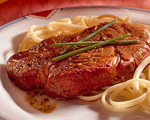 Prep: 5 min
Cook Time: 10 min
Total: 15 min
Serving: 2 Servings
The addition of sherry to tenderloin steak, adds more depth and flavor to the beef.
Ingredients
Nonstick spray coating
2 4-ounce beef tenderloin steaks, cut 1/2 inch thick
2 tablespoons dry sherry
1/8 teaspoon salt
1/8 teaspoon cracked pepper
Dash dried tarragon, crushed
Directions
Spray a large sauté pan with cooking spray and then place over medium-high heat.
Once the pan is hot, add the steaks and sear for 3 minutes on each side, then transfer to 2 serving plates.
Slowly add the sherry to the sauté pan along with the salt, pepper and tarragon. Stir the mixture to combine and cook for 1 minute.
Spoon the sherry sauce over the steaks and serve immediately.