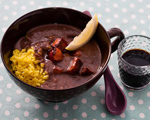 Prep: 10 min
Cook Time: 10 min
Total: 20 min
Serving: 4 Servings
You will never consider black bean soup a bland dish ever again after you try this rich and flavorful version made with sherry and chorizo.
Ingredients
1 package yellow rice
2 large garlic cloves, finely chopped
1 tablespoon olive oil
2 cans black bean soup (16- to 19-ounces each)
1/2 cup chopped Spanish-style chorizo (cured, not fresh; peel off casing before chopping)
3 tablespoons Sherry (preferably medium-dry, but feel free to use whatever Sherry you like to drink)
1 tablespoon fresh lemon juice
Directions
Prepare the yellow rice according to package directions.
In the meantime, place a large sauté pan over medium-low heat. Once hot, add the oil and sauté the garlic until fragrant and golden yellow in color.
Stir in the black bean soup, chorizo and sherry and simmer the mixture, stirring frequently, for 5 minutes.
Add the lemon juice and stir to combine.
Serve the soup ladled into bowls over the yellow rice.