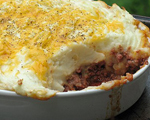 Prep: 20 min
Cook Time: 1 hr 10 min
Total: 1 hr 30 min
Serving: Serves 4-6
Nothing beats a classic Shepherd's Pie for dinner on a cold winter's night. This comforting family favorite can be assembled in advance and then baked in the oven before serving.
Ingredients
1 tablespoons of olive oil
2 onions, chopped
2 carrots, chopped
20 ounces ground beef
14 ounce can of peeled tomatoes
2 tablespoons of ketchup
1 cup beef stock
1 fresh or dried bay leaf
1 sprig thyme
1 cup frozen peas
salt and freshly ground pepper to taste
2 pounds potatoes, peeled and chopped
1/2 stick of butter
1/4 cup of milk
1/2 cup grated Parmesan cheese
Directions
Preheat the oven to 375 degrees.
In a large sauté pan, heat the oil over medium heat and sauté the carrots and onion for 5 minutes until onions are translucent.
Add the ground beef and cook until browned. Mix in the ketchup, tomatoes, stock, thyme and bay leaf and simmer, covered, on medium-low heat for 15 minutes. Season with salt and pepper and mix well.
Fill a large pot a little over half way with salted water and bring to a boil. Add potatoes and boil until very soft. Drain the potatoes and return to the pot. Add the butter, milk and Parmesan, and mash with a potato masher until smooth.
Empty the beef mixture into an oven proof casserole dish and then top with the mashed potatoes.
Bake for 35 minutes and then serve warm.