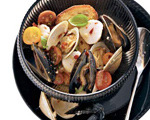 Prep: 15 min
Cook Time: 20 min
Total: 35 min
Serving: 4 Servings
This elegant and colorful dish is a wonderful main course for entertaining. Serve this medley of shellfish, made with clams, mussels, and scallops, with a bottle of Sauvignon Blanc or a Johannisberg Riesling.
Ingredients
4 thick slices of rustic bread
1/4 cup extra-virgin olive oil, plus more for brushing and drizzling
5 garlic cloves, —4 smashed, 1 cut in half
4 small dried red chiles, smashed
1/2 cup dry white wine
1/2 cup bottled clam juice
24 littleneck clams
1 pint cherry tomatoes, halved
2 pounds mussels, scrubbed
3/4 pound sea scallops, halved horizontally
1/2 cup small basil leaves
Salt
Directions
Preheat your oven to 375 degrees.
Place the sliced bread onto a baking sheet and toast in the oven for 6 minutes. Remove the bread; thoroughly brush on both sides with olive oil and then rub with the cut side of a garlic half. Put 1 slice of toasted bread into 4 separate bowls and set aside.
Place the 1/4 cup of oil into a large sauté pan over medium heat and then add the garlic and the chiles. Cook the mixture for 3 minutes, stirring occasionally, and then pour in the wine and cook for an additional 2 minutes.
Stir the clam juice into the mixture and then bring to a boil. Once boiling, add the clams and tomatoes and then cover the pan and cook for 2 minutes. Add the mussels and the scallops, increase the heat to high, and cook, covered, for 3 minutes.
Using a slotted spoon, evenly divide the seafood mixture between the 4 bowls and then continue to boil the broth for 2 minutes to reduce. Stir in the basil and a few pinches of salt and then add the broth to the prepared bowls. Drizzle each bowl with additional olive oil and serve immediately.