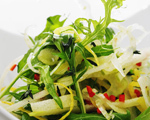 Prep: 10 min
Cook Time: –
Total: 10 min
Serving: 4 Servings
Use a mandolin to shave the fennel bulb and the green apple into thin, long strips for this crisp, cool yet fiery salad made with arugula and jalapeno pepper.
Ingredients
1-1/2 cups fennel bulb shaved thin
1 -1/2 cups sour green apple shaved into thin batons
1 cup baby arugula
3 tablespoons fresh lemon zest
1 tablespoon thyme, fresh and minced
1 tablespoon red jalapeno seeded and finely minced
sea salt
Fresh cracked black pepper to taste
1/2 cup Fresh Lemon Juice
1/2 cup Olive Oil
1 clove garlic, finely minced
Directions
Place 2 tablespoons of the lemon zest, the lemon juice, olive oil, garlic and a pinch of salt into a small bowl and whisk vigorously to combine.
In another bowl, place the fennel, apple, remaining lemon zest, arugula, thyme, jalapeno and a few pinches of salt and pepper. Immediately prior to serving, add the dressing to the salad and gently toss to coat.