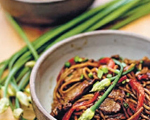 Prep: 10 min
Cook Time: 30 min
Total: 40 min
Serving: 4 Servings
In the mood for Chinese? Try this delicious recipe for fresh fried noodles with spicy beef served with a cold Qingdao Draft beer, and enjoy an authentic Chinese meal.
Ingredients
1 pound fresh Shanghai noodles
2 tablespoons Chinese rice wine
1 tablespoon hoisin sauce
1 teaspoon cornstarch
12 ounces flank steak, sliced into 1/4-inch strips
3 tablespoons dark soy sauce
1 tablespoon soy sauce
1/2 teaspoon sugar
2 tablespoons peanut oil
1/2 teaspoon minced garlic
1/2 teaspoon minced ginger
1/2 teaspoon minced green onions, plus 1 cup cut-on-a-bias green onions
3 cups julienned Napa cabbage
1/2 teaspoon minced jalapeno
Directions
Cook the noodles in a large pot for about 8 minutes; noodles will be al dente. Rinse the noodles under cold water to stop them from cooking, drain and set aside.
Mix together the rice wine, hoisin, and cornstarch in a small bowl and then add the beef. Marinate the beef in the mixture for 15 minutes.
Meanwhile, combine the dark soy, soy sauce and sugar in another bowl and stir until sugar has totally dissolved.
Put a wok or large sauté pan over high heat and coat with the peanut oil. When the pan is hot, add the garlic, ginger, and minced green onions and sauté for about 15 seconds and then drop in the beef and cook for 3 minutes. Finally, add in the cabbage and cook for an additional 3 minutes.
Empty the contents of the wok onto a serving platter and place the remaining peanut oil in the pan. Once the oil is hot add the noodles and fry for 1 minute. Toss in the green onions and pour in the soy sauce mixture and jalapeño and cook for another minute. Add the beef mixture and mix all of the ingredients together until heated. Serve immediately.