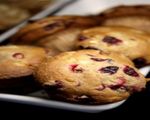 Prep: 20 min
Cook Time: 30 min
Total: 50 min
Serving: 12
Chocolate and cherries make a delicious combination in these cherry muffins.
Ingredients
1/2 cup toasted slivered almonds
1 cup dried cherries (rough chop)
1 cup Shamrock Farms Rockin' Refuel, Chocolate
1 1/2 cups brown sugar
2/3 cup vegetable oil
1 egg
3/4 cup Shamrock Farms Sour Cream
1 teaspoon baking soda
1 teaspoon salt
1 teaspoon vanilla
2 1/2 cups all-purpose flour
1/4 cup cocoa
12 maraschino cherries or fresh with stem washed and dried
Directions
Preheat oven to 325 degrees and toast almonds until lightly browned.
On stove top, add 1/2 cup Shamrock Farms Rockin' Refuel Chocolate on low heat and add dried cherries to plump.
Strain and reserve liquid for topping (if desired).
Mix dry ingredients.
In a separate bowl, combine eggs, oil, vanilla, Shamrock Farms Sour Cream and 1/2 cup of Shamrock Farms Rockin' Refuel Chocolate.
Fold in dry ingredients and fold in cherries. Do not over-mix!
Scoop into medium-sized muffin tin, 3/4 full. Bake for 30 minutes or until toothpick comes clean. Let cool.