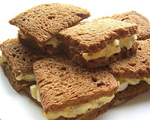 Prep: 20 min
Cook Time: 15 min
Total: 35 min
Serving: 6 Servings
The tarragon in these classic sandwiches adds a distinctive fennel and anise-like bold flavor, while the shallot provides fresh and subtle onion undertones.
Ingredients
8 large eggs
1/2 cup mayonnaise
3 tablespoons finely chopped shallot
1-1/2 tablespoons finely chopped fresh tarragon
1 tablespoon capers, finely chopped
2 teaspoons white-wine vinegar
1/4 teaspoon salt, or to taste
1/4 teaspoon black pepper, or to taste
12 slices of rye bread
6 lettuce leaves
Directions
Place the eggs in a medium saucepan and cover with cold water. Bring eggs to a rolling boil and then switch off heat and let stand, covered, for about 10 minutes.
Remove eggs from the pan and set aside to cool.
In the meantime, add the mayonnaise, shallot, tarragon, capers, vinegar, salt and pepper to a bowl and mix until well combined.
Peel the eggs and chop into small pieces.
Place eggs in bowl with mayonnaise mixture and mix until well combined. Check seasoning and then spoon egg mixture onto a slice of bread, topping with lettuce and a second slice.