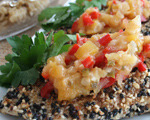 Prep: 20 min
Cook Time: 55 min
Total: 1 hr 15 min
Serving: 4 Servings
Tender and juicy breasts of chicken are coated in a panko breadcrumb, crushed almond and black and white sesame seed coating, baked to perfection and then topped with a sweet and savory mango chutney.
Ingredients
4 (8-ounce) boneless, skinless chicken breasts
1/2 cup panko breadcrumbs
1/2 cup crushed almonds
3 tablespoons black sesame seeds
3 tablespoons white sesame seeds
Salt and freshly ground black pepper
1-1/2 tablespoons olive oil
FOR THE CHUTNEY:
1/2 small red bell pepper, diced
1/2 small yellow onion, diced
1 tablespoon diced jalapeno, seeds and ribs removed
1 large mango, diced
1 ripe banana, sliced into 1/4-inch rounds
1/4 cup sugar
1/4 cup cider vinegar
1 1/2 teaspoons grated fresh ginger
1-1/2 teaspoons crushed garlic
1/2 cup mango or orange juice
1/2 teaspoon salt
1/4 teaspoon freshly ground black pepper
Directions
Place the Panko breadcrumbs, almonds and sesame seeds into a shallow bowl and mix to combine. Season the chicken breasts on both sides with salt and pepper, and then dip into the breadcrumb mixture pressing to adhere. Place the coated chicken onto a plate and then put in the refrigerator.
To make the chutney, place the bell pepper, onion, jalapeno, mango, banana, sugar, cider vinegar, ginger, garlic, mango juice, salt and pepper into a medium saucepan over medium heat. Bring the mixture to a simmer and cook for 40 minutes, stirring occasionally.
In the meantime, preheat your oven to 350 degrees.
Place the olive oil into a large sauté pan over medium heat. Once the oil begins to shimmer, add the chicken and cook for 1-1/2 minutes on each side and then place in a baking dish; cook the chicken in the oven for 15 minutes. Serve the chicken immediately topped with the chutney.