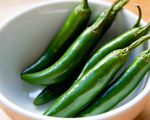 Prep: 5 min
Cook Time: 7 min
Total: 12 min
Serving: 4 Servings
You don't always have to dress your salad with a classic oil and vinegar vinaigrette. Try tossing it with this warm dressing made with Serrano chile and fresh ginger.
Ingredients
1/4 cup plus 2 tablespoons vegetable oil
1 onion, finely chopped
1 Holland chile, minced
1 teaspoon finely grated fresh ginger
1/2 teaspoon cumin seeds
1/4 teaspoon turmeric
2-1/2 tablespoons fresh lemon juice
Sea salt and freshly ground pepper
Directions
Put the oil into a large sauté pan over medium-high heat. Once it begins to shimmer, add the onion and sauté for 5 minutes, then stir in the chile, ginger, cumin and turmeric and cook for an additional 2 minutes more.
Add the lemon juice to the chile mixture and then sprinkle with a few pinches of salt and pepper. Serve immediately.