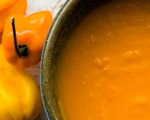 Prep: 10 min
Cook Time: 10 min
Total: 20 min
Serving:
Habanero peppers are some of the most fiery chiles on the Scoville scale; that's the measurement used to rate a chile's heat. It is recommended that you wear latex gloves when handling the peppers.
Ingredients
1 tablespoon olive oil
2 large carrots, chopped
2 medium-sized red tomatoes, cut into quarters
Quarter of one Spanish onion, cut into strips
3 habanero peppers, cut in half
3 cloves of garlic, cut in half
Juice of one lime
2 tablespoons white vinegar
Salt and freshly ground pepper to taste
Directions
Place the oil into a large sauté pan over medium heat. Once the oil begins to shimmer, add the carrots and sauté for 5 minutes, and then add the onion, tomatoes, habaneros and garlic cloves and cook for an additional 5 minutes, stirring frequently.
Transfer the contents of the pan to a blender and then add the lime juice and then vinegar. Pulse the mixture to combine, adding a bit of water if too thick.
Season the mixture with salt and pepper to taste and then place in a tightly-capped glass jar in the refrigerator until ready to use.